"Cemetery restoration in Poland is about remembering and honoring the dead and those murdered in the Holocaust... It is also about life and the living, teaching younger generations, reconciliation – and about preserving Jewish heritage." (Poland Jewish Cemeteries Restoration Project)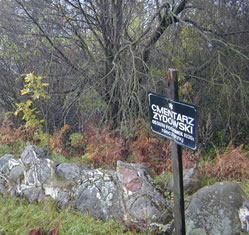 In 1827, my great-great-grandfather, Lejb Myszkowski (pronounced labe mish-KOV-ski), was born in the village of Przerosl (pshe-ROH-jluh), Poland.
In 1999, I traveled to Poland to visit the cities and towns where my ancestors lived, to walk in their footsteps. (For more information, visit the website I created to document that journey.) Although Przerosl boasted a Jewish population of perhaps 600 in the mid-1800's (the town has a total population of only about 1,000 today), there was virtually no trace of Jewish presence in the Przerosl that I visited at the close of the 20th century.
There was, however, one notable exception: Surrounded by the remains of an ornamental stone fence, the Przerosl Jewish Cemetery covered the same 1.5-acre plot that it had occupied for nearly 300 years. Unlike the thousands of Jewish cemeteries in Poland and throughout central Europe that were completely obliterated during the Holocaust, the Przerosl Jewish Cemetery had somehow managed to survive.
That was the good news. The bad news was that the cemetery appeared to be in terrible condition, so overgrown with vegetation that, if I hadn't spotted a couple of dozen headstones poking through the underbrush, I might have thought I was in the woods, rather than in a cemetery. The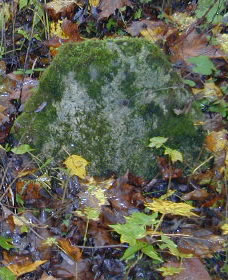 cemetery did not appear to have been maintained in any way since the war – so even though it seemed to have been spared the violence that damaged or destroyed so many other Jewish sites, the cemetery was obviously in the slow process of returning to nature.
As I surveyed the ruins of the cemetery, I couldn't help but wonder if any of my ancestors were buried there. I don't know how long the Myszkowski family lived in Przerosl, but I have seen documents that suggest that it was for at least 50 years, and possibly much longer. Since my ancestors lived in Przerosl, it seems reasonable to believe that some of them died there as well – which means that it's certainly possible that I have ancestors who were laid to rest in the Przerosl Jewish Cemetery.
In the summer of 2003, I received an email from a Polish man who said that he was about 60 years old, which means that he would have been born during the war. He had seen the website about my visit to Poland, and he wrote to tell me that he had been born and raised in Przerosl. Specifically, he remembered the Przerosl Jewish Cemetery as a place where he and his friends had played as children. "It was in much better shape," he told me, "with readable tombstones, and not much woods."
As I read that note, it occurred to me that I had just received confirmation that the cemetery had survived the Holocaust in excellent condition. And I realized that if the wall could be repaired, the vegetation removed, and the headstones cleaned, it might be possible to restore the Przerosl Jewish Cemetery to excellent condition once again. And even if "excellent" was too optimistic a goal, I was fascinated by the possibility that, if the cemetery could somehow be restored, I might actually be able to find one of my ancestors' names engraved on a weathered headstone.
It seemed to me that I had to find a way to put a halt to the years of deterioration and neglect and to turn the cemetery back into the place of honor and dignity that it deserves to be.
And so, in early 2004, I contacted the Poland Jewish Cemeteries Restoration Project (PJCRP), the organization that was responsible for the restoration of the Jewish Cemetery in Ozarow, and which has been involved in a couple of dozen restoration efforts in towns such as Losice, Ilza, and Szadek.
The PJCRP was incredibly helpful in establishing contacts in Przerosl and in actually getting the restoration project underway. In 2006, I enlisted the additional assistance of the Foundation for the Preservation of Jewish Heritage in Poland, an organization whose specific mission is "to protect and commemorate the surviving monuments of Jewish cultural heritage in Poland."
So now I'm in the fortunate position of working with the two organizations that probably know more about restoring Jewish cemeteries in Poland than anyone in the world, which means that the project is not lacking in expertise. All we need now is some money.
As you might imagine, an undertaking of this magnitude is expensive. It's certainly not something I can afford to do by myself. I may never know for a fact whether or not members of my family are actually buried in the Przerosl Jewish Cemetery, but I do know that members of somebody's family are buried there, someone's great-grandmother is buried there, someone's cousin was laid to rest in that one-and-a-half-acre plot. I would like to honor their memories, and I need your help.
"Jewish cemetery restoration is among the greatest 'mitzvot' one can do, since the dead cannot thank us." (Poland Jewish Cemeteries Restoration Project)
Every penny of your donation to the Project to Restore the Przerosl Jewish Cemetery will be applied to restoring the cemetery. Please be as generous as you can be.
The following pages contain detailed information about the project and instructions on how you can contribute. Please feel free to email me at Hank@Mishkoff.com if you have any questions, comments, or suggestions.